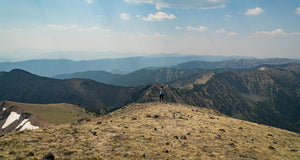 Everything To Keep you pushing forward in comfort in the mountains
Dan Bailey's Outdoor Co is proud to carry some of the best names in hiking and camping. From boots and shoes, backpacks, technical accessories, tents, camp furniture and much more, we are Livingston's one-stop shop for the outdoors.
Backpacks
Technical packs from Osprey cover everything from day hikes to week long excurions.
Camp Gear
Tents, sleeping bags, camp furniture, lighting, and more.
Footwear
Don't end your day with sore feet and blisters. Boots and shoes from your favorite brands.
Technical Apparel
Stay warm when it's cool, cool when it's hot, dry when you're sweaty, and relaxed when you're not.
Not Sure What You Need?
Today's hiking and camping market is filled with gear. If you're not quite sure what you need our friendly and expert staff can help you find what fits right and works well. There are no stupid questions and our team knows what you need for this area to keep you comfortable, warm, dry, and safe.
Want To Learn More?
Fill out the form below and we'll be back in touch within 24 hours. Or, give us a call at 406.222.1673. We look forward to hearing from you!