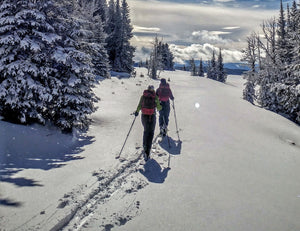 Livingston's Full Service Ski and Winter Store
Custom Boot Fitting, Ski Shop, Ski Sales, and Ski Rentals
Experience Winter In Montana
Montana is world-renowned for our snow, our mountains and our access. Whether you are cruising trails on XC skis or exploring deep in the backcountry, we've got everything you need.
Our full-service ski shop can service, repair, update, and maintain your skis at any point in the year.
Get the best ski boots of your life with a custom boot fitting with our master bootfitter, Dana Ham.
Ski Shop Services
Our full service ski shop offers a host of services to ensure your skis are up to date and maintained to perform the best.
Learn More
Custom Boot Fitting
The best boots of your life are an appointment away. Call 406.222.1673 to schedule an appointment with Master Bootfitter Dana Ham and our BootDoc 3D scanning system.
Learn More
Ski Rentals
Want to explore our area around Livingston on skis but don't want to spend the money to buy them? Rent them from us!
Learn More
Ski Sales
Our fully stocked ski shop carries cross country and AT skis, boots, accessories, avalanche safety gear and more.
Ski Resources
There are plenty of resrouces to go out and enjoy the mountains and ski seaosn.
We'll be adding to this section over the next few weeks. Stay tuned!
Reach out!
We'd love to hear from you! Our staff will be in touch within 24 hours, or give the shop a call at 406.222.167.